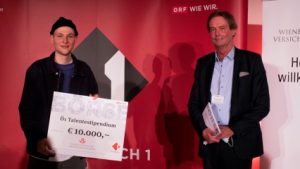 Ö1 Talentestipendium 2020 goes to Simon Lehner
Sieger des Ö1 Talentestipendiums für bildende Kunst 2020 ist Simon Lehner. Der 1996 in Wels geborene Künstler studiert "Fotografie und Zeitbasierte Medien" an der Universität für angewandte Kunst Wien. Das Ö1 Talentestipendium, eine bisher in Österreich einzigartige Nachwuchs-Förderung, ist mit 10.000 Euro dotiert und wird mit Unterstützung des Wiener Städtischen Versicherungsvereins vergeben. Die Verleihung fand am Abend des 28.10.2020 im Wiener Leopold Museum statt.
Ausgehend von persönlichen Erfahrungen in der Kindheit drehen sich die Arbeiten Simon Lehners um häusliche Gewalt, psychische Gesundheit, männliche Identitätssuche und Hypermaskulinität.
Werke der Preisträger/innen sowie der weiters nominierten Kunstschaffenden Camille Holowka und Juliana Lindenhofer sind kuratiert von Philippe Batka, Verena Gamper und Hans-Peter Wipplinger von 29. Oktober bis 8. November 2020 im Wiener Leopold Museum ausgestellt.
Mehr Informationen unter:
https://oe1.orf.at/artikel/677870/Oe1-Talentestipendium-an-Simon-Lehner
Grace Wales Bonner will head the Department for Fashion Design
The British designer, who was born in London in 1992, has for years been a leading force in the field of trend-setting, theory-based and transdisciplinary fashion design. She started her own label for menswear in 2014/2015 and already won renowned fashion awards with the presentation of her first collection.
Her work explores representations of black male sexuality and identity. Bonner subsequently expanded her collection to include women's fashion. The British designer and artist received numerous awards, most recently from the BFC/Vogue Designer Fashion Fund. In 2019, she presented her first institutional exhibition "A Time for New Dreams" in London's Serpentine Galleries. Wales Bonner has been intensively engaged in theory, music composition, literature and history and combines European traditions with Afro-Atlantic perspectives in her works. "I'm delighted to be joining the Angewandte as head of the Fashion Design Department  and I hope to bring a unique cultural perspective to the course and the university", says Grace Wales Bonner.
Credit: Jamie Morgan
Sep 29, 2020 – Oct 24, 2020 / Exhibition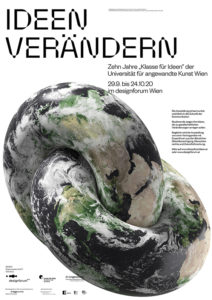 Ideen verändern
Ideen verändern" ("Ideas change") is the title of an exhibition to celebrate the tenth anniversary of the "Klasse für Ideen in Grafik und Werbung" at the University of Applied Arts Vienna. The show delves into the course's past, portrays students and alumni and suggests a peek into the future.
The exhibition focuses on subjects of societal transformation, for which the students developed ideas that inspire to assume new perspectives and point towards the potential for change. Programme and guided tours due to COVID-restrictions the opening event and programme cannot go ahead as planned. We do however offer guided tours instead. These take place on 3, 5, 6, 12, 13 and 19 October.
Location
Designforum Vienna at the MuseumsQuartier
www.designforum.at.
The exhibition is part of the Vienna Design Week.
For further information on the show and the "Klasse für Ideen", please sign up to our newsletter or visit our facebook page.