LARISSA FALK wins the RONDO fashion award 2021!
We are very pleased to announce this year's winner of the RONDO Fashion Award by Der Standard!
Congratulations to Larissa Falk student of Modeklasse who convinced the jury with her graduation collection ALIENATION. In her graduation collection, Falk questions female body images and subverts the traces of the male gaze with her designs. Historically, the way in which female nudity is revealed has been subject to constant change in many cultures. The graduate explores the question around the fetishization of the female body or individual body parts such as breasts, buttocks and "female" curves. In her collection, she presents skin uncovered and uses curves and lines to expand the contours of the female silhouette. Falk is concerned with creating new body shapes that change the female appearance and physical image. Underlying her design work is a commitment to body positivity and the belief that women of all ages should be proud to show their skin and have no shame in imperfection – a plea for the confident and self-determined wearing of clothes.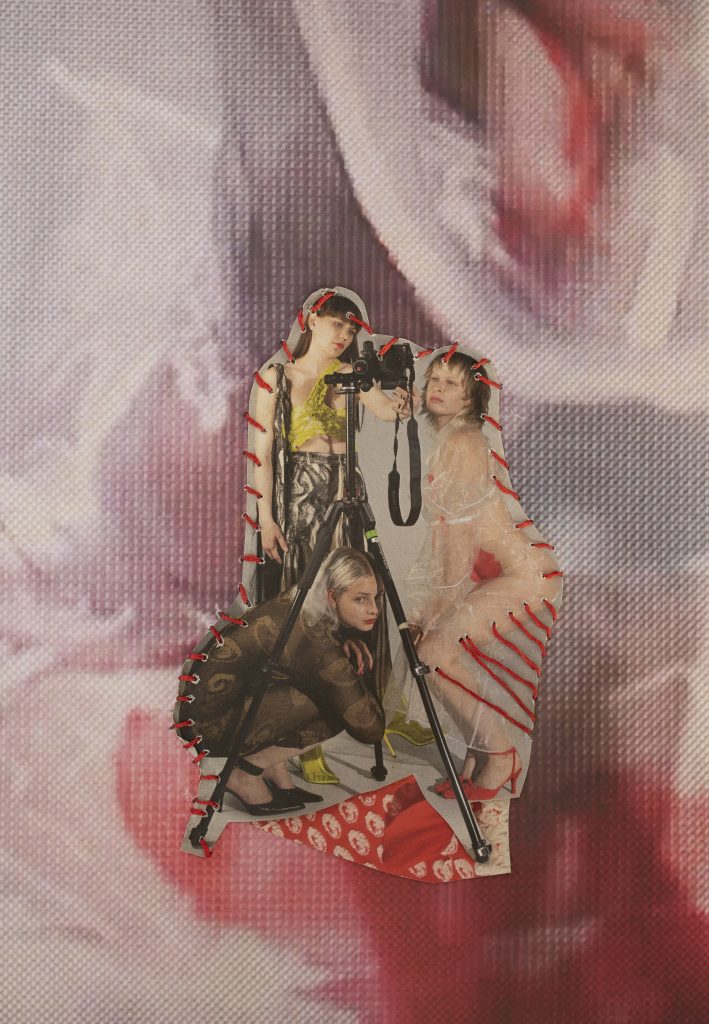 Jul 1, 2021 / Diplomas '21
Congratulations!
Congratulations to all diploma students!
Applied Photography and Time-Based Media:
_ Daniela Trost: On Chess – A photographic playground
_ Luca Fuchs: Isolation und Kunst – Frustration und Produktion
_ Philipp Orsini-Rosenberg: Leitfaden für ein zu langes Leben
_ Marlene Mautner: The Decolonized Mars
Fashion
_ Vanessa Schreiner
_ Blanka Hedvig Wittmann
_ Larissa Falk
_ Brankica Sanadrovic
_ Anastasiia Shpagina
_ Jennifer Milleder
_ Cody Klippel
_ Nikola Markovic
_ Ilija Milicic
_ Alessandro Santi
Graphics and Advertising
_ Raffael Strasser: Nutztier
_ Michael Niedermair: PAPAKARENZ Die härteste Fortbildung deines Lebens
_ Liza Borovskaya-Brodskaya: Marginal Notes
Graphic Design
_ Maris Nisu: Imafuture
_ Joohyun Lee: Gilbert
_ Hilal Avci: Kapikule
_ Rebecca Wenig: #unboxingtruth
Industrial Design 1
_ Franz Ehn
_ Armin Muhamedagic
_ Kerstin Pfleger
_ Aurel Somlyódy
_ Daniel Spari
Industrial Design 2
_ Jan lhno Raddatz
Jun 29, 2021, 11:00 AM – Jul 2, 2021, 10:00 PM / Exhibition & more
Angewandte Festival 2021
From 29 June to 2 July 2021, things are finally bubbling up again around Oskar-Kokoschka-Platz. The activities of the Angewandte are spreading out into the city. The exhibitions of the departments present the works and projects that have been created in the past year. They show that the Angewandte has not stood still.
Guided tours lead into the city and through the exhibitions, performances, interventions and other formats that are dispersed throughout Vienna. 23 advertising pillars can be visited in the 23 districts of Vienna. They act as anchors for the exhibitions in the university buildings and carry their themes into public space.
Exhibitions in the central university buildings
around Oskar-Kokoschka-Platz, daily from 11 a.m. to 8 p.m.
Ferstel-Trakt + Schwanzer-Trakt – Oskar-Kokoschka-Platz 2, 1010 Vienna
VZA 7 – Vordere Zollamtsstraße 7, 1030 Vienna
Former Postsparkasse – Georg-Coch-Platz 2, 1010 Vienna
Final theses
The final theses from the entire academic year 2020/21 can be visited digitally on the festival website and to a large extent on site in the exhibitions.
Exhibitions in the city
23 advertising pillars in 23 districts and different exhibition formats at various locations in the city
Festival programme
Audio / Book / Discourse / Film / Guided tour / Intervention / Hybrid / Reading / Performance / Sound / Tour / Video / Workshop
Infopoint (OKP)
The Infopoint (OKP) is located at Oskar-Kokoschka-Platz 2, 1010 Vienna, next to the main entrance of the University. It is the meeting point for all tours and guided tours, unless otherwise indicated. The Infopoint is staffed during the opening hours of the exhibitions and the print festival guides are available there.
In case of bad weather, there are no indoor alternatives due to the current Covid-19 restrictions!
Covid-19 notice
The exhibitions and the accompanying festival programme will take place in accordance with Covid-19 regulations. If implementation with audience participation is not possible, the contributions will be streamed online at angewandtefestival.at.
Rules for visiting
Admission and visit only in compliance with the 3-G rule (tested, vaccinated, recovered) – this will be checked at the entrances!
Please wear an FFP2 mask in all rooms of the university and at all festival locations!
Keep a distance of 2 metres to your fellow human beings!