May 21, 2021 – Jul 2, 2021 / Exhibition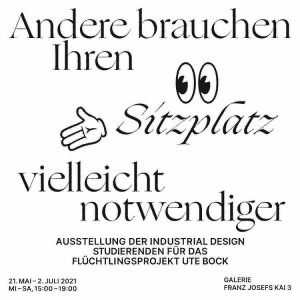 Andere brauchen ihren Sitzplatz vielleicht notwendiger
An exhibition by Industrial Design 1 students. They transformed unwanted things into functional objects. These will then be auctioned in July, donating the revenue to the Ute Bock Flüchtlingsprojekt.
On show at Galerie FRANZ JOSEFS KAI 3
21.05. – 02.07.21
Wed – Sat, 15:00-19:00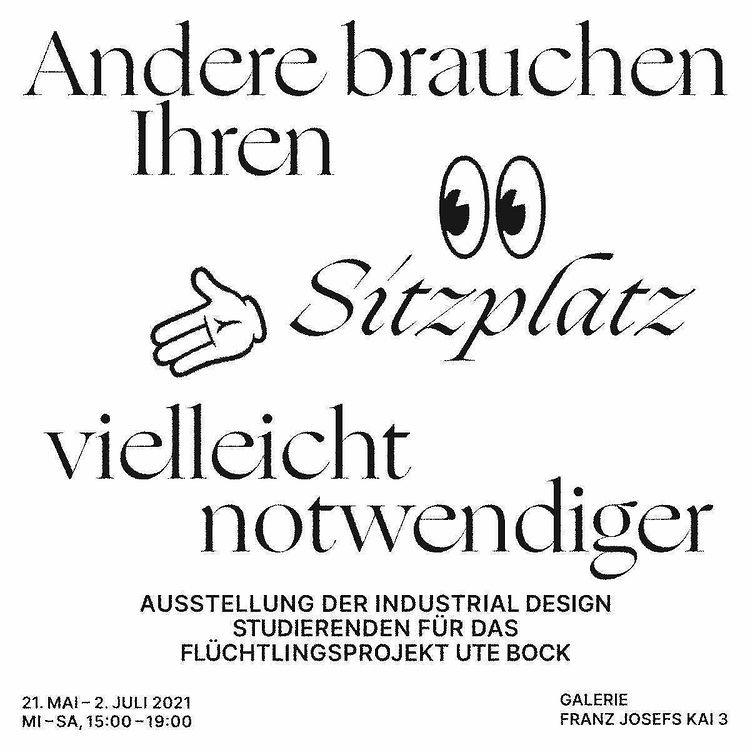 Mar 26, 2021 / Congratulations, Sofia Kocher!
Student's work selected for Ö1 Hörspielpreis Award
A jury of Ö1 selected the design of Industrial Design 1 student Sofia Kocher for the future "Ö1 Hörspielpreis" award. Congratulations!
Also congratulations to the award winners Mimu Merz, Roman Gerold, Gabriel Schett, Claudia Bitter, Maja Osojnik, Natascha Gangl und Matija Schellander!
"Das sogenannte Oloid sieht nicht nur ähnlich aus wie eine Ohrmuschel, sondern kann auch rollen. Beim Rollen der Form als auch beim Spielen in der Hand erklingt ein zauberhafter Ton aus dem Inneren des goldenen Oloids. Was sich darin verbirgt lässt sich nur erahnen." – Sofia Kocher
Thanks to Florian Wagner and Olivia Haas for supporting the students in your workshop.
Click here for further information!
photo: ORF/Joseph Schimmer
Feb 22, 2021 – Feb 26, 2021 / Entrance Exams
ENTRANCE EXAMS for the Academic Year 2021/22
Due to the ongoing pandemic the University of Applied Arts Vienna is adapting the procedures for applications.
_1 upload your portfolio to our cloud
Please register first in order to upload your digital portfolio to our cloud server. Find all necessary information here.
For applications to Applied Photography, Graphics and Advertising, Graphic Design, upload your portfolio between February 1st and 6th, 9 am.
For applications to Industrial Design 1, Industrial Design 2 and Fashion Design submit your portfolio between February 8th and 17th, 9 a.m.
For more detailed information about the desired shape and form of your portfolio, please find information on the department´s website of your interest.
_2 receive your invitation in mid february
If your portfolio has been deemed eligible, you will receive an invitation to participate in the entrance exams. You will receive a confirmation or denial email. Applied Photography, Graphics and Advertising & Graphic Design will send it until February 12th and Industrial Design 1 + 2 and Fashion Design latest until February 20th.
_3 entrance exams: 22 – 26 feb in vienna and online
The entrance exams differ slightly between departments. Usually they consist of a two-day-work-challenge ending with a personal conversation with professors.
Where will the exams take place? Depending on the department, some will be hold online via Zoom, others  will be held physically in Vienna, at the University of Applied Arts. Should Covid restrictions apply like travel restrictions online entry exams can be made possible.
To look into each department´s specific requests please choose a department to find more information.